Top Springs Hotel
Buntine Highway
Top Springs NT 0852
Phone | (08) 8975 0767
Fax | (08) 8975 0877
Email | topspringshotel@gmail.com
Located at the junction of the Buntine and Buchanan Highways, 291 kilometres south of Katherine, Top Springs Hotel is surrounded by many huge cattle stations.
Check out where we are on a Google map.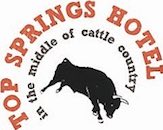 Email: topspringshotel@gmail.com
Phone: 08 8975 0767 | Call Now
Fax | (08) 8975 0877
Note: There is only Optus mobile coverage at Top Springs. There is a Telstra pay phone at the front of the premises.